IIM Túrghymbaevqa ashyq hat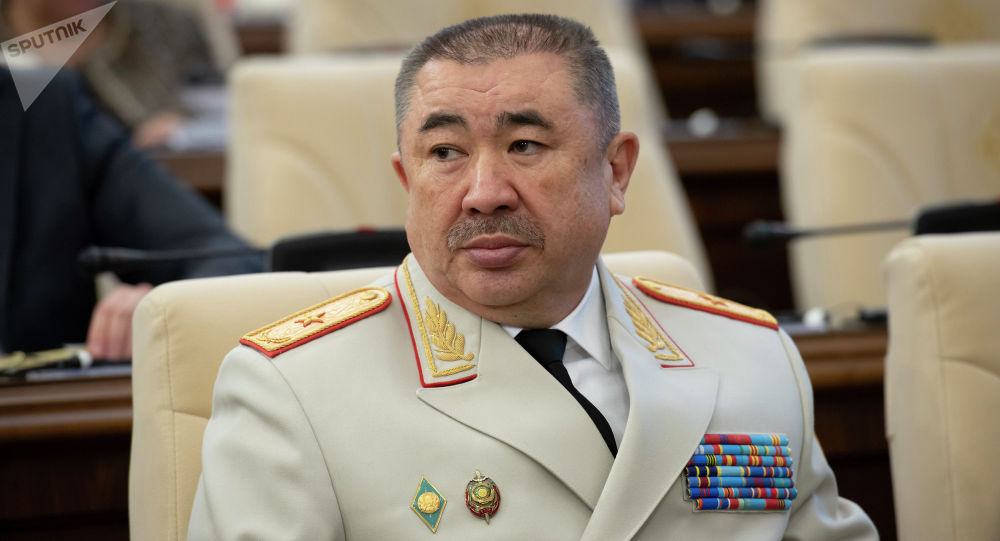 QR  Ishki ister ministri
Erlan Túrghymbaevtyng nazaryna!
Ministrlik poliyseylerding imidjin qalay jasaudy bilmey me?
Saylau ayaqtaldy. Saylaudan keyingi sarsang da sayabyrsydy. Basqasyn qoya túryp, dәl osy jolghy saylau qazaq polisiyasynyn, Qazaqstan polisiyasynyng dýt tirligin, úrda-jyq әreketin aiday әlemge pash etti. El ishindegi azdy-kem abyroyyn aimanday qyldy. Endi sol shelektep tógilgen abyroydy qasyqtap qayta jinaugha ministrlik baryn salyp jatyr. Birneshe kýnnen beri respublikalyq auqymdaghy memlekettik telearnalarda Ishki ister ministrligining tapsyrysy boyynsha әzirlengen beyne rolikterdi jappay kórsetude. Búl qanshalyqty tiyimdi bastama...
Saylaudan keyin biraz júrt narazylyq tanytyp, óz oiyn biylikke jetkizu ýshin sheruge shyqty delik. Olar demek arman-tilekterin Astanadaghy aq jaghalylar estir dedi. Býrdirip ketken joq. Qiratyp ketken joq. Ózgeler sekildi maroderlyq hәm búzaqylyq jasaghan joq. Eshkimning qoly synyp, kózi shyqqan joq. Jәy ghana beybit sheru boldy.
Erlan Túrghymbaevting aituyna qaraghanda 9-12 mausym aralyghyndaghy sherulerge 4 mynnan asa azamat qatysypty. 300-den asa poliysey týrli jaraqat alypty. Túrghymbaev osy resmy mәlimet alqyly shal-shauqan men qatyn-qalashty sýirelep jýrgen kýshtik qúrylymdardyng isin aqtap almaq shyghar.
Esesine Erlan myrza, sizding ministrliginizge qarasty polisiya qyzmetkerleri jendettik jasaghanyn qazaq baspasózin bylay qoyyp, әlem aqparat qúraldary jarysa jazyp jatyr.
Jýzdegen adam ústaldy. Jurnalister soqqygha jyghyldy. Búl jaghdaylar sózsiz Qazaqstan polisiyasynyng ishki hәm syrtqy imidjin әbden týsirdi. Ol imidjdi qayta qalyptastyru ýshin aldymen әlem ne degenine qúlaq salynyz.
Bizdi qoyyp, «Washington Post», «Financial Times», «New York Times», «The Guardian», «Ál-Jazira» sekildi auditoriyasy әlemdik masshtabty qamtityn aqparat agenttikteri qazaq polisiyasynyng tirligin – repressorlyq dep baghalady. «Qazaq polisiyasy – adam qúqyqtaryn shektedi» dedi. «Qazaq polisiyasy – beybit halyqty úryp-soqty» dedi. Sózimiz súiyq shyqpasyn, birli-jarym derek keltire keteyik...
Mynau «The Guardian» saytynyng 10-mausym kýngi maqalasy. IIM viyse-ministri Marat Qojaevtyn  Astana men Almatyda zansyz mitingke shyqqan 500 adamnyng ústalghany turaly aitqanyn, odan bólek, «France-Presse» agenttigin ókili, britan jurnaliysi Kriss Rikltonnyng da alanda tútqyndalyp, kózi kógergenin jazypty. (Chris Rickleton, a British journalist with Agence France-Presse, was briefly detained and sustained a black eye during his arrest).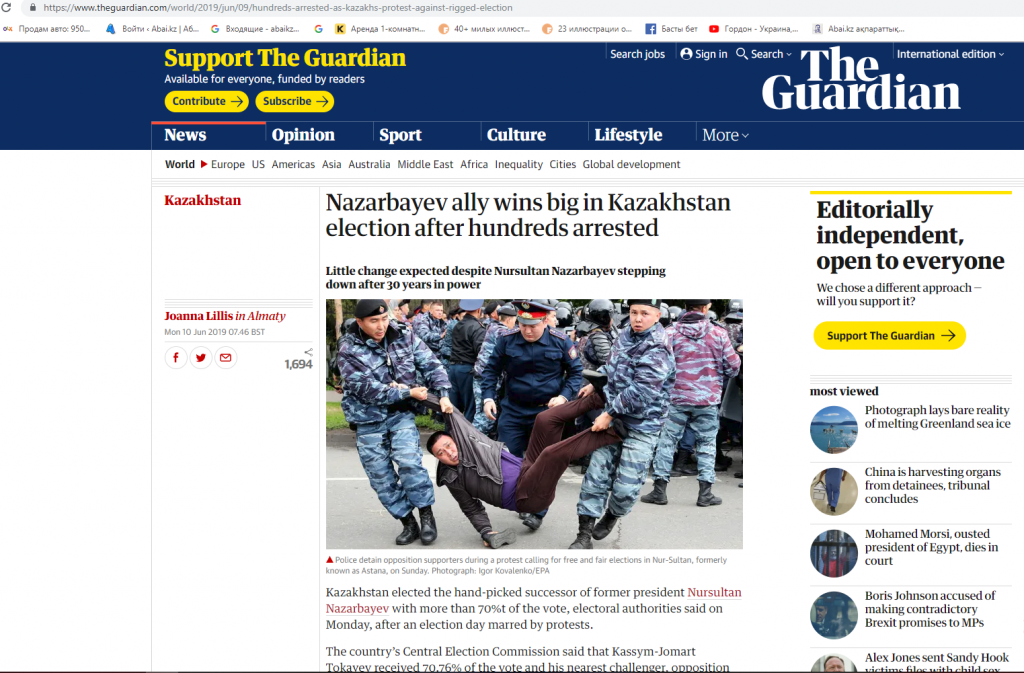 Al mynau «The Diplomat» saytynyng 13-mausym kýngi maqalasy. «Ústalghandardyng kóbin avtobustar men polisiya kólikterine otyrghyzdy. Qarsylyq kórsetkenderdi jas-kәrisine qaramay (regardless of their age or affiliation), erkinen tys, kýshpen otyrghyzdy. Saylau kýni birneshe jurnalist tútqyndaldy. Elde jiylys ótkizudi shekteytin әdetki tyiym shenberinen shyqqan búl әreket kýrt narazylyq tudyrdy. Ertesi kýni taghy bir jurnalistti týndegi marsh kezinde birneshe sherushimen birge polisiya soqqygha jyqqan» dep jazdy (The majority of the people arrested were "helped onto" buses and police vans. Those who resisted were dragged and wailed forcefully, regardless of their age or affiliation. In fact, on election day, several journalists were detained, sparking harsh criticism beyond the usual condemnation of the limits to freedom of assembly in the country. The next day, one journalist following a march during the night was beaten up by police along with some demonstrators).
«Human Right Wach» saytynda Mira Raytman, baqylaushy bolyp kelgen, Norvegiyalyq Helsinski komiytetining ónirlik ókili Marius Fossumnyng da tútqyndalghanyn jazypty (Yet today in Almaty, the capital, police briefly detained Marius Fossum, the Norwegian Helsinki Committee's regional representative, who was monitoring protests).
Jaza berseng kóp. Osymen toqtayyq. Erlan myrza, búl maqalalardyng barlyghy derlik Sizding ministrlikting ótken aptadaghy júmysyna berilgen bagha. Halyqaralyq qauymdastyq aldynda qazaq polisiyasynyn, Qazaqstan polisiyasynyng bedeli osy maqalalardyng mazmúny boyynsha qalyptasary sózsiz.
Meyli, «el ne demeydinin» әnine salyp, sheteldik jazghyshtardy elemey-aq, qoyarsyz. Osyghan deyin de әlemdik auditoriya aldynda qazaq polisiyasynyng reputasiyasy qaybir jaqsy bolyp edi dersiz.
Ministr myrza, birneshe kýnnen beri respublikalyq auqymdaghy memlekettik telearnalarda Ishki ister ministrligining tapsyrysy boyynsha әzirlengen beyne rolikter kórsetilude. «Qazaq polisiyasy azamattardyng qúqyghy men qauipsizdigin qorghaydy. Qazaq polisiyasy qúrmetke layyq» degen mazmúndaghy búl rolikter Sizding ministrlik tapsyrysy boyynsha kórsetilip jatyr.  Osy saylaudan keyin, saylaudan keyingi abyr-sabyrdan keyin el-júrtqa sýiemdey sýikimi qalmaghan polisiyanyng bedelin kóteruge búl beyne rolikter jetkilikti me? Joq. Qazir Qazaqstan polisiyasyna degen el-halyqtyng senimi azayghan. Júrt nege polisiyagha senbeydi?  Óitkeni, әli kýnge Sizding orynbasarynyz bolyp, Mahambet Abisatov sekildi adamdar otyr.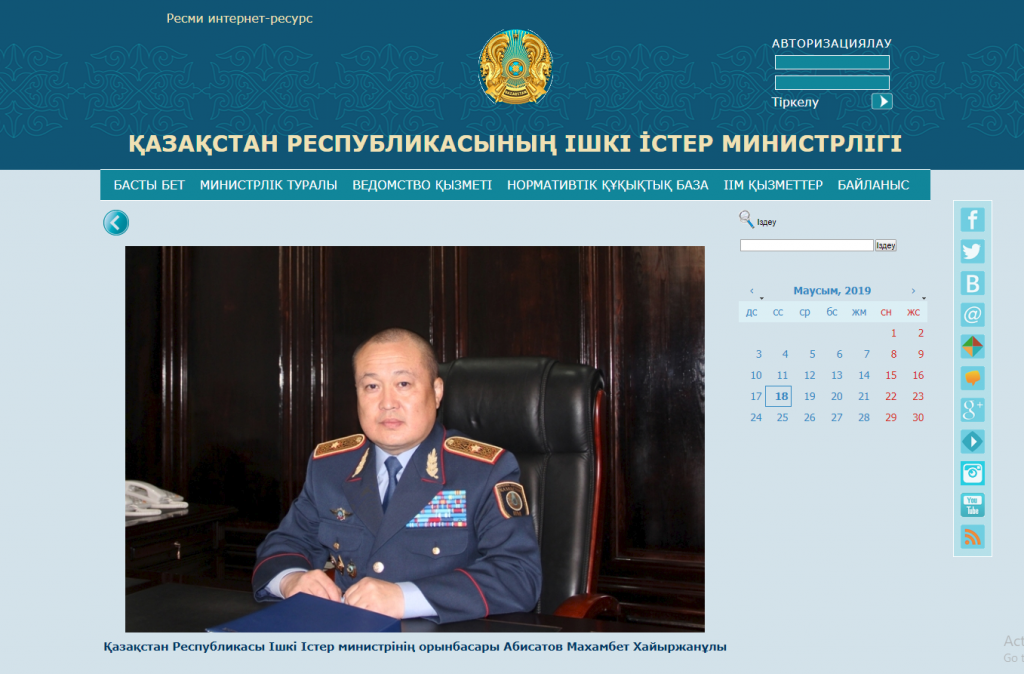 Búl Mahambet Abisatov deytin viyse-ministrinizding 2017 jyly aitqan beyәdep leksikondaghy audio jazbasy býkil qazaqtyng jaghasyn ústatqan bolatyn.
Ras, ol kezde ol Sizding orynbasarynyz emes edi.  Sonda da sol kezdegi Aqtóbe oblystyng IIB basshysy Mahambet Abisatov Janaózen oqighasy men shahterler kóterilisine qatysty boqauyz sózderdi boratqanyn Siz bilseniz kerek-ti. Orys tilindegi ol sózder beyәdep leksikondar jiyntyghy bolghan son, tәptishtep jazyp jatpadyq. Siltemesi mine: https://www.facebook.com/basekz/videos/1952386041532330/?v=1952386041532330
Qazaq azamattarynyng qany tógilgen Janaózen kóterilisi men shahterler narazylyghyn Abisatov týgili Aqorda moyyndady. Elbasy Núrsúltan Nazarbaev Janaózenge arnayy baryp, halyqtyng talap-tilegin tyndady. Qúzyrly biylikke tapsyrma berdi. Jaghday ong sheshimin tapty.
Al, qazirgi Sizding orynbasarynyz Mahambet Hayyrjanúly Abisatov halyqtan keshirim súraghan joq. Dәl osy viyse-ministr Abisatovtyng Aqtóbede, oblystyq IIB basshysy qyzmetinde jýrgende ótkizgen jiynynyng audiosy әleumettik jelide әli jýr. «Facebook» jelisinde «Bәse» deytin paraqsha jariyalaghan.
;fbclid=IwAR0kay80PP7x_pB6ARu3OqnkN36sCunqetKFi4Ind0gH3eKRul0d0AUyDvA
Dәl osy viyse-ministr Abisatov turaly «tengrinews.kz» sayty da jazghan eken. IIB-nyng Aqtóbe oblystyq jeke qúramyn AKT zalyndaghy su jana oryndyqtardy býldirgeni ýshin senzuralyq sózdermen balaghattap jatqany jariya bolghan-dy. Orys tilindegi búl sózder qazaqshagha qotarugha kelmeydi. Álgi «tengrinews.kz» saytynyng jazghany sózbe-sóz: «Ty posmotrel kresla? Do sih por ne sterty ety nadpisi? Zapomniyte, pryamo tak v protokol: ***, nikakih MPSov, chasov professionalinoy podgotovki. Aktovyy zal toliko dlya torjestvennyh aktov. Na novyh kreslah napisali: «Zdesi byl Nurlan, Aliybek». Razreshil na lifte ezditi, proezjati odin etaj - *** (slomali) vesi lift. Na luboy strelke obosnuy, chto aktubinsy ***. Chtoby nikomu aktovyy zal ne otkryvaliy».
Búl mәselege qatysty óziniz pikir bildirip, «anyq-qanyghyn tekseremiz» degen bolatynsyz. Qayttinizder, tekserdinizder me? Álde «júmys prosessindegi jaghday» degen syltaumen jyly jauyp qoya saldynyzdar ma? Ministrlik saytyndaghy aqpargha sensek, auzyna aq it kirip, kók it shyghatyn viyse-ministr óz qyzmetinde kórinedi. Soghan qaraghanda, jogharydaghy bizding topshylauymyz dóp týsken sekildi me...
Eger ministrlik poliyseylerding jaghymdy imidjin qalyptastyrghysy kelse, aldymen osy Mahambet Hayyrjanúly qyzmetinen ketui tiyis emes pe? Sizding tikeley orynbasarynyzdyng auzynan aq it kirip, kók it shyghyp jatsa, qatardaghy shendilerden ne ýmit, ne qayyr?
Meyli, búl júmys prosessindegi jaghday delik. Endeshe Zang bәrine birdey. Zang aldynda jauapqa tartu ýshin  adamnyng qyzmeti, ya sheni manyzdy emes. Solay emes pe?! Bireudi naqaq aiyptau niyetimizde joq. Abisatovqa qatysty jogharydaghy jazbany býkil qazaq talqygha saldy. Jay-japsaryn anyqtau Sizding qúzyrynyzda. Sóite túra onyng qyzmeti kýn sanap ósti. Qazir poliyseyler turaly jasalghan myng jarnamalyq rolikten góri osynday bir dókeydi әdil jazalau halyqqa ótimdi bolsa kerek. Janaózende sheyit ketken halyqqa qarsy osylay «góitken» adamnyng ministrding orynbasary bolyp otyruy qanshalyqty әdiletti? Onyng jay-japsaryn anyqtau, Túrghymbaev myrza, Sizding qúzyretinizde! Dese de, osyghan deyin Siz basqaratyn ministrlikting qyzmetkerleri qyzmettik etika talaptaryn saqtamaghany ýshin qyzmetterinen quylghanyn bilemiz. Onyng bәrin emes, birneshesin ghana fakti retinde úsynbaqpyz...
2012 jyl. Batys Qazaqstan oblystyq JPB basshysy Tóleu (Tuleu) Bedrov qyzmetinen ketti. Ne ýshin? Ar-újdan kodeksin óreskel búzyp, qaramaghyndaghy qyzmetkerlerge boqauyz sózder aitqany ýshin.
2015 jyl. QR IIM Ákimshilik polisiya komiyteti basshysynyng orynbasary, polisiya polkovniygi Baqytjan Baltashov qyzmetinen quyldy. Ne ýshin? Balasynyng toyynda toy korteji jol jýru erejesin óreskel búzghany ýshin.
2019 jyl. «My – bratva, my - banda» deytin aty-shuly beyne jazbadan keyin Qaraghandy IIM akademiyasynyng basshylary qyzmetterinen alyndy. Ne ýshin? Taghy da qyzmettik etika erejesin óreskel búzghany ýshin. Búl joly akademiya basshysy, polisiya general-mayory Kenjetaev D.T men Qaraghandy akademiyasy birinshi kursy basshysynyng orynbasary Tastaybekov A.R quyldy.
2019 jyl. Bauyrjan Hantemirov әleumettik jelide dauly audiojazba taraghan son, qyzmetinen ketti. Ol Núr-Súltan qalalyq polisiya departamentining JPP  polk komandiyrining mindetin atqarushy edi. Ne ýshin? Qyzmetin asyra paydalanghany, úyaly telefon qoldanghany jәne senzuralyq sózder aityp, qyzmettik etikany saqtamaghany ýshin.
Mine, qatardaghy may-shabaqtargha shamasy kelgen ministrlikting qarmaghy iri sazangha kelgende dәrmensizdik tanytyp alatyny qalay? Osy orayda biz Sizge Atyrau oblystyq polisiya  departamentining basshysy Ayan Dýisembaevtin qyzmetinen qalay bosaghanyn esinizge salayyq.
Biyl 6 mamyr kýni Ayan Dýisembaev «general-mayor» shenin taqty. Osydan keyin el-júrty Dýisembaevqa qúrmet kórsetip, at mingizgen. Dýisembaev atqa minip, suretke týsken. Keyin belgili bolghanday, Dýisembaev әlgi el-júrty mingezgen atty sol jerde-aq, ózge auyldasyna syigha tartqan. Osylay el-júrtqa syily general-mayor atqa bir minip, suretke týskeni ýshin ghana qyzmetten quylady. Al, jalpy halyq pen polisiyany esekke teris mingizip balaghattaghandar hәm shal-shauqandy kókparsha tartyp sýiregender jazagha tartylmaydy. Nege?
Qazaq polisiyasynyng bedelin eng qúryghanda el ishinde jaqsartu ýshin «Qazaq polisiyasy qúrmetke layyq» degen mazmúndaghy birli-jarym beyne rolik jetkiliksiz! Kýni keshe ghana preziydent Qasym-Jomart Toqaev sheteldik arnagha súhbat berip, beybit sheru ótkizuge rúqsat beretinin aitty. Halyqtyng talap-tilegin tyndaytynyn jetkizdi.
Alangha shyghyp, óz tilegen óz biyligine jetkizgisi kelgen júrtty boqauyz sózdermen balaghattaytyn, ol az deseniz kýsh qoldanyp, tepkining astyna alatyn úrda-jyq qyzmetkerleriniz endi qaytpek?! Preziydent Toqaev eldegi әleumettik problemany sheshuding janasha joldaryn qarastyratynyn aitty. Al sizding qaramaghynyzdaghy aitaqtaghy ittey «ә» dese әlimjettik jasaugha dayar túrghan polisiya men olardyng boqauyz basshylary preziydent aitqan ózgeristerge dayyn ba?
Týiin
Ras. Saylaudan keyingi sheruler qazaq polisiyasyna degen senimge selkeu týsirdi. Endi sol olqylyqty týzetu ýshin búl salagha keshendi reforma jasaluy kerek. Ministrlik әleumettik jelide taralghan sansyz suretterge azyn-aulaq viydeo-roliktermen jauap berem deui bos әureshilik. Bizding aitpaghymyz osy.
Núrgeldi Ábdighaniyúly
Abai.kz