Sheteldik BAQ: Putinning jaqtastary ózara daulasyp jatyr
Kesheli-beri qazaq qoghamy, qazaq qoghamy deymiz-au, sheteldik BAQ qyrghyzdyng tórtinshi preziydenti Almasbek Atambaevtyng aitqandaryn talqylap әlek. Biz sholu jasadyq.
Atambaev ne dedi?
Áueli, sosial-demokrat Almas bayke Qyrghyzstannyn  ishki  sayasatyna  aralasugha әreket etpek bolghan qazaq biyligine  ókpesi  qara  qazanday  ekenin bayqatty. Alty jyl qyrghyzdy basqaryp bite-qabyl bolghan Ol preziydenttik kreslosyn tapsyrarda búlqan-talqan bolyp, birtýrli mәlimdeme jasady.
«Esli  nashy sosedi  ne ochuhaitsya, ne  opomnyatsya, ya budu govoriti  po-drugomu. Kajdyi  narod  doljen  vybirati  svoego  praviytelya, y on  zaslujivaet  togo, kogo  vyberet. VVP  goroda  Almaty  v 5 raz bolishe, chem  VVP vsego  Kirgizstana. A VVP  Kazahstana  bolishe VVP  Kirgizstana  v 20 raz. I  valovyi   produkt  Kazahstana  v  dohodah v  10  raz  bolishe  Kirgizstana. Pochemu  togda  pensii  Kazahstana  bolishe  (kirgizskiyh)  vsego  v 1,5  raza, a ne  10  raz, a  tarify vyshe  v 5 raz? Pochemu?  Potomu chto  razvorovyvait   bogatstva  v  Kazahstane.
Atambaev  podaet  kazaham «plohoy» priymer. Potomu  chto, narod hochet  spravedlivoy   vlasti. Pravilino  Nazarbaev  na vstreche s Babanovym  govoriyl  o  molodom  preziydente. No, samyi  starshiy  kandidat  (v preziydenty  Kirgiziy ) na 20 let  moloje  Nazarbaeva. A ya—na 16 let. I  komu  nujen  molodoy  preziydent, nam ili  Kazahstanu?  Ya  vse ravno  provedu  chestnye  vybory» -, dedi.
Qúrmanbek  Bakiyevting biyligin qúlatqan son, qyrghyz júrtyn Roza Otynbaeva, Ómirbek Tekebaev әm Almasbek Atambaev bastaghan top basqardy. Búlar uaqytsha ýkimet jasaqtap, bir jarym jyl ishinde qyrghyzdyng jap-jana mizamyn (Konstitusiya) jazyp shyqty. Sóitti de, tizgindi Almasbek Atambaev ústady.
Sóitken Atambaev Astanamen de, Mәskeumen de әmpey-jәmpey sayasat ústanyp, Astanadaghy aghasyn arqasynan qaghyp, alaryn-alyp jýrdi. «Oybay, Núreke, siz kelseniz jetisip qalamyz. Tipti, Ystyq kól de núrlanyp sala beredi» dep әsire maqtap, milliondaghan qarjyny gumanitarlyq kómek degen qorjyngha syidyryp alghanyn aitamyz...
Qonaq kelse, qant súray keletin tuys qazaqty tildedi. Ózi aghalap-jaghalap jýretin preziydentti «kәri-sýiek» dep sókti.
Ayyr qalpaq aghayyn ashyq demokratiyalyq sayasatty ústanatyn, taqty múragerge nemese izbasargha bermeytinin, saylaudyng әdil ótetinin aityp, aghynan jarylghan Atambaev kenetten demarsh jasady. Demarshy – ónirde destabilizasiyagha әkelip soqtyra jazdady.
Preziydent – provokator. Búl Preziydentting ózi aitatyn sóz emes
Sayasatkerler Onyng búl sózin saylau aldy sayasy nauqan dep baghalap, provokasiyagha mәn bermeuge shaqyrdy. Preziydent – provokator. Búl Qazaqstannyng resmy ókilderining Almas baykege bergen baghasy.
«Asyp-tasyp sóiledi, qyzyl emosiyagha berildi» desek te, Almasbek Atambaevtyng sózi kópting kónilin audardy. Búl Preziydent aitatyn sóz emes edi. Qyrghyzdaghy әne-mine ótetin saylau aldynda elektoratty óz adamyna audaryp qaluy ýshin aitylghan provokasiyalyq osy bir әngimeni, aqyry aitu kerek bolsa, qyrghyzdyng qynaday qaptaghan deputattary aitpapty ma... Sayasy qatelik.
Ou, Alataudyng arghy betin jaylap jatqan qyrghyzdyng Aqaev, Bakiyev deytin basshylary da ketti ghoy. Ándijannyng biyimen, qúdalyqtyng buymen tuystasyp jatqan joqpyz ba?..destik, biz.
Atambaev pen Putiyning dostyghy. Mәskeu de qyrghyz saylauyna aralasuda
Almasbek Atambaevtyng aq kóbik auyz bop aitqany sheteldik BAQ-tyng kontentine ainaldy. Tendensiya – Atambaev pen Nazarbaevtyng arasy suydy.
Mysaly «BBC-din» orys tilindegi sayty «Astanadaghy bir kezdesu ýshin, Qazaqstan men Qyrghyzstan arasy suydy» dep jazady.
«19-qyrkýeyte Qazaqstan Preziydenti qyrghyz preziydenttigine ýmitker Ómirbek Babanovpen kezdesti. Al qyrghyzdyng Syrtqy ister ministrligi búl ýshin Qazaqstangha narazylyq bildirip, saylaugha yqpal etu әreketi dep baghalady. Babanovtyng Qazaqstangha jasaghan sapary, onyng saylaudaghy basty qarsylasy, qazirgi Preziydent Almasbek Atambaevtyng izbasary Sauranbay Jiyenbekovpen aradaghy daudy ushyqtyrdy» dep jazady.
«BBC» beytarap pozisiyany ústanatyn loyaldy aqparattyq agenttik degenimizben, onyng orys tilindegi qyzmetkerleri faktini naqtylap almapty. Preziydent Nazarbaev pen kandidat Babanov Astanada emes, Almatyda kezdesti. Búl ekeui Almatyda kezdesip jatqanda Almasbek Atambaev pen Resey Preziydenti Vladimir Putin Sochiyde sóilesip otyrghany taghy bar.
Ortalyq Aziya mәseleleri boyynsha sarapshy Arkadiy Dubnov qyrghyzdaghy saylaugha Mәskeuding bey-jay qaramaytyny aitqan.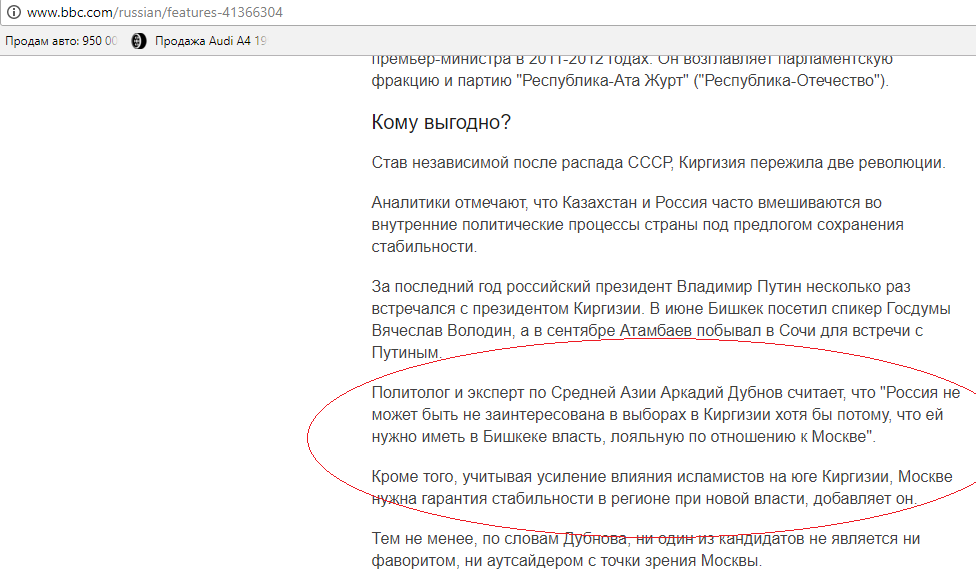 «Rossiya ne mojet byti ne zainteresovana v vyborah v Kirgiziy hotya by potomu, chto ey nujno iymeti v Bishkeke vlasti, loyalinui po otnoshenii k Moskve». IYә, Kremlige keregi sózin ótkize alatyn, OA sayasy prosessterdi baqylau jasay alatyn onshyl preziydent. Putinge qolaylysy – Sauranbay boluy bek mýmkin degen boljam da aityldy.
Qolayly demekshi, Atambaev pen Putin songhy bir jyldyng ishinde birneshe mәrte jýzdesti.  Tipti, Ala-archadaghy aq sarayda kezdesken Atambaev pen Putin resmy protokoldy búzyp, qúshaqtasyp jýrdy. E, bәse, Reseyding gimni oinaghan sәtte Atambaevtyng qolyn jýregine jýgirtip jibergeni taghy bar. Búl jestikulyasiya alty jyldyng ishinde Mәskeu men Bishkekting arasy qanshalyqty jaqyndasyp ýlgergenin anghartady.
Ashugha aldyrghan әdiletti jauap
«Azattyq radiosynyn» qyrghyz tilindegi qyzmeti de qazaq-qyrghyz qatynasyna synaday qaghylghan Atambaevtyng sózin talqylapty.
Sóitip, qyrghyz sayasatshysy Ravshan Jiyenbekovting «Atambaevtyng aitqany әdiletti. Ashugha aldyrghan әdiletti jauap» degen pikirin berdi.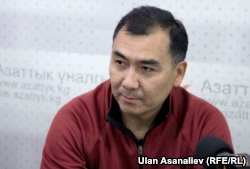 «Qazaq tughandar bizding ishki mәselelerimizge kiyligip, saylau kezinde tura emes nәrselerge jol berip keledi. Qyrghyz preziydenti emosionaldy adam. Biraq ol azyraq shekten shyghyp ketti. Múny diplomatiyanyng tilimen jetkizse de bolar edi. Nazarbaevtyng Almatyny mysal etkeni ýshin qyrghyzdyng jana sayasy jetekshileri kemsinip jatyr. Búl oidyng ishinde «sender kimsinder, kerek bolsa Almatygha tenese almaytyn memleketsinder» degen basynu bar. Almaty men men Qyrghyzstanyng budjetin salystyrugha kelmeydi. Óitkeni ol múnay, gaz, baghaly metell esebinen tolyqtyrylyp otyr. Búl olardyng biyligining iygiligi emes. Almatyny qarqyndy damyp kele jatqan Talliyn, Vilinus siyaqty qalalarmen salystyrsa bir jón», - deydi (Nazarbaevdin Almaty shaaryn misal keltirip salyshtyruusunun ichinde kyrgyz mamleketin jana sayasiy jetekchilikty kemsintýý jatat. Bul oidun ichinde "siyler kim bolup kalypsynar, kerek bolso Almaty shaaryna dagy teng kelbegen mamleketsiyner" degen basyntuu jatat. Birok Almatynyn budjetin Kyrgyzstandyn budjety menen salyshtyryp bolboyt. Antkeny al gaz, munay, metall syyaktuu baaluu jaratylysh resurstarynyn esebiynen tolot. Bul alardyn biyliginin iygiligy emes. Almaty shaaryn ech kanday jaratylysh baylygy jok, birok natyijaluu ónýgýp jatkan Tallin jana Vilinus syyaktuu shaarlar menen salyshtyrsa bir jón).
Aghylshyn tilinde «Presstv.com» sayty «Qyrghyzstan ishki sayasatqa aralasqany ýshin Qazaqstandy aiyptaydy» atty maqala jariya boldy. Onda Preziydent Nazarbaev pen kandidat Babanovtyng kezdesu sóz bolghan.
«Qazaqstan (Qyrghyzstanmen salystyrghanda-red.) Ortalyq Aziyadaghy irileu әm bay memleket. Ol da Reseymen jaqsy qarym-qatynasta. Alayda, Astana men Bishkekting arasyndaghy sayasat salqyn. Oghan sebep transshekaralyq sauda-sattyq pen su resrustaryn paydalanu sekildi mәseleler» (Kazakhstan, a bigger and wealthier Central Asian nation, is also a Russian ally, but relations between Bishkek and Astana have been rocky due to tensions over cross-border trade and the sharing of water resources), - dep jazady.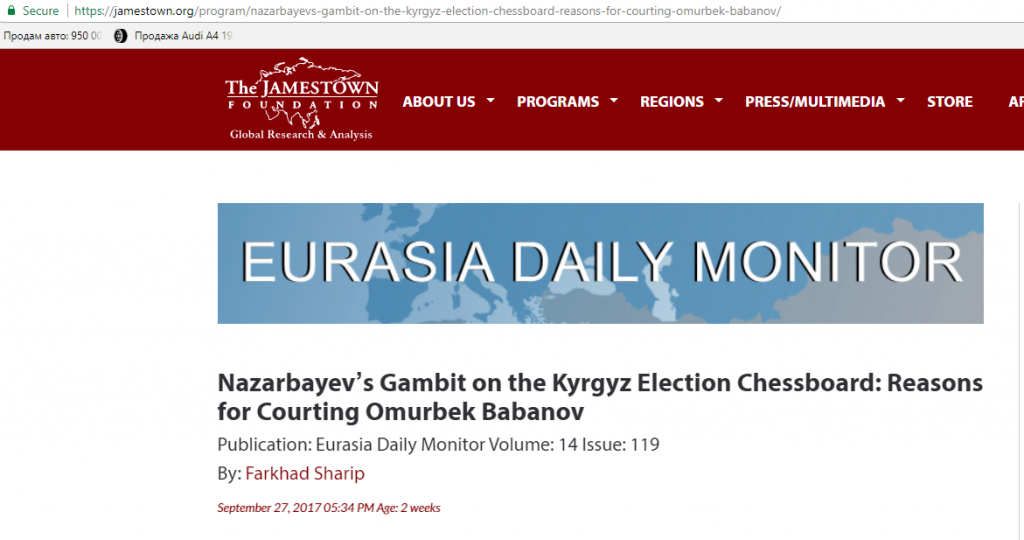 «Jamestown.org» qazaq-qyrghyz arasynda dau tudyrghan kezdesu jayly sayasy sholuyn jariya etti. «Qyrghyz saylau aldy shahmat taqtasyndaghy Nazarbaev gambity» atty maqalada Babanov SDP ókili, Atambaev múrageri Sauranbay Jiyenbekovke qarsy túrar qauqary bar birden-bir kandidat – Babanov ekendigin jazady.
«Nazarbaevpen kezdeskennen keyin Babanov nópir synyng astynda qaldy. Ásirese synshylar ony el mýlkin sheteldik oligarhtargha satpaq boldy dep aiyptaydy. Dese de, onyng jaqtaushylar kóp» (After his talks with Nazarbayev, Babanov came under fierce attacks from various media outlets in Kyrgyzstan that lean toward the sitting president, Almazbek Atambayev (For.kg, September 20). Critics specifically accused him of scheming to sell out the country's wealth to foreign oligarchs. Nevertheless, he is still widely recognized by many observers in Kyrgyzstan as the only opponent capable of defeating Sooronbay Zheyenbekov, the ruling Social Democratic Party of Kyrgyzstan (SDPK) nominee, who has been groomed by Atambayev), - deydi.
Al «Micetimes.asia» portaly «Putinning dostary arasynda dau shyqty. Nazarbaev pen Atambaev arasy suydy» atty maqala jariyalady.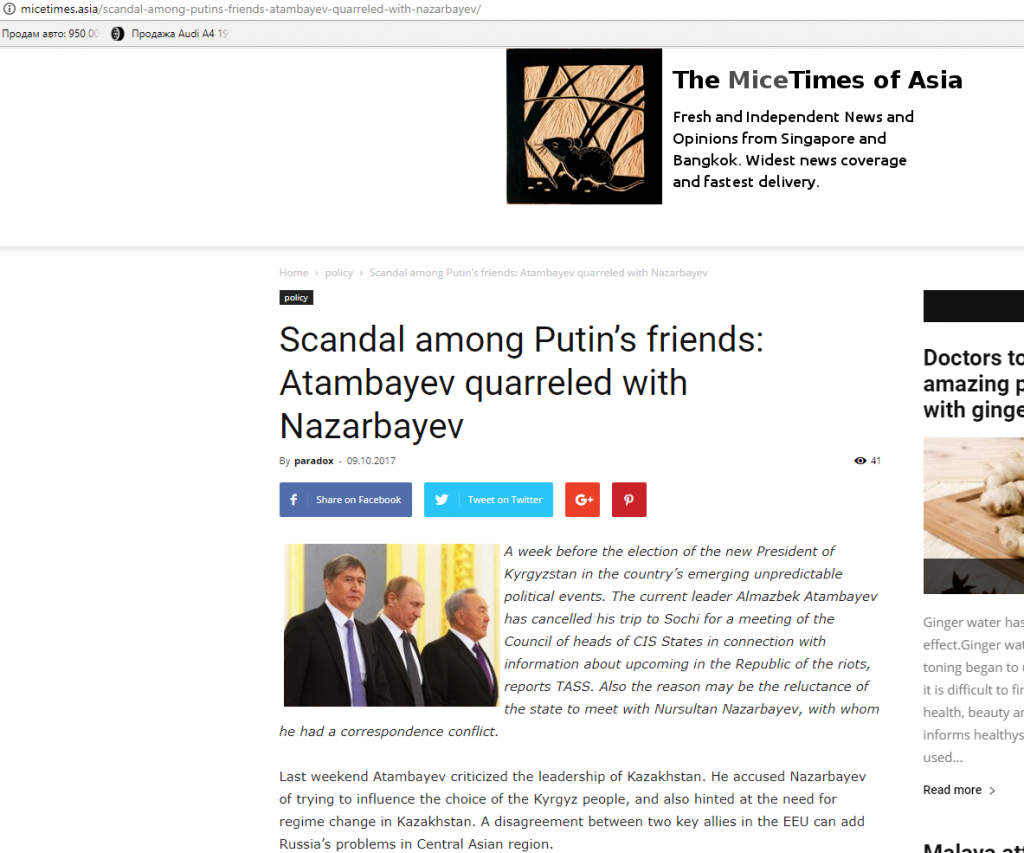 «Qyrghyzdyng qazirgi basshysy Almasbek Atambaev Sochiyde ótetin TMD elderi basshylarynyng kenesine barudan bas tartty. Barmauynyng sebebin «eldegi sayas nauqan kezindegi beybereketsizdikter» dep týsindirgen. Degenmen, Atambaevtyng Sochiyge barudn bas tartuy – Núrsúltan Nazarbaevpen kóriskisi kelmeui de negizgi sebepterding biri» (The current leader Almazbek Atambayev has cancelled his trip to Sochi for a meeting of the Council of heads of CIS States in connection with information about upcoming in the Republic of the riots, reports TASS. Also the reason may be the reluctance of the state to meet with Nursultan Nazarbayev, with whom he had a correspondence conflict), dep jazady basylym.
Týrikting «Mynet Haber» sayty da qazaq-qyrghyz qarym-qatynasy turaly maqala jariyalap, eki elding arasyndaghy daudyng biltesin tútatushy Ómirbek Babanov depti.
Jә, Atambaevtyng aqyrghy sózi osy mazmúndaghy maqalalanyng arqauy boldy. Deytúrghanmen «Nazarbaev pen Atambaev arasyndaghy dau» degen kontentting eng kreativtisin – «Vecherniy Bishkek» jazdy.
«1 million qazaqstandyq Atambaevty preziydent bolugha shaqyrdy» degen maqalada jogharyda aitylghan sayasy tartys turaly aqparattar men әleumettik jelilerdegi pikirlerdi toptapty.
Týiin: Mine, ótken aptadaghy Atambaevtyng qyzdy-qyzdymen aitqanynyng aqyry osy boldy. Sózding týiinin týie otyryp, qyrghyz tilindegi myna bir uchkul sózdýý aitqandy jón kórdik.
«Bir tuugandarybyzdy, týgóiýbýzdý, atabyzdy sýigónýbýz menen, jan kyinylganda ar dayym oozubuzga birinchy enebiz kelet». Avtory kim ekenin bilmedik. Degenmen, bir tughan qyrghyzdyng osy sózin qazaqshagha qotormasaq ta týsinikti bolar.
«Han Kene men Nauryzbay batyrdyng qolyna qarsy shapqan qyrghyz manaptarynyng ishinde aiyr qalpaqty milyqtata kiyip alghan orys-kazak jasaqtary boldy deytin derek bar. Sóitip aqyrynda aq patsha qyrghyzdy qazaqqa aidap salyp degenine jetken kórinedi. Áytse de, biraq, qazaq pen qyrghyzdyng irgesi bólingen joq. Shoqan qyrghyz tarihyna sholu jasady. Enesay men Alatoodyng arasynda kóshken qyrghyz kóshin "epopeyalyq kósh" dep atady." Manas jyryn" qaghazgha týsirip, ghylymy ainalymgha engizdi. "Ystyqkól ocherkterin" jazdy. Múhtar Áuezov Mәskeude "Manas jyryn" "burjuaziyanyng jyry" dep bet qaratpaghan Sovet senzurasynan qorghap qaldy. Jas әm talantty jazushy Shynghys Aytymatovty biyikke kóterdi. Sol Shyqang "naghashy júrtyma baryp keleyin" dep Alataudyng teriskey betine attanghanda qazaq jazushylary alty qanat aq boz ýiin tigip aldynan shyghatyn. Qala berdi, qazaqty qyrghyzday jaqsy kóretin, qyrghyzdy qazaqtay bauyr tútatyn el kemde kem. Mine, osynday arqa-jarqa elding arasyna Atambaev siyaqty onghaq sayasatkerlerding sózi syna bolyp qaghylmauy kerek dep oilaymyn. Atambaevtar keledi ketedi. "Sening de kiygening aq qalpaq, mening de kiygenim aq qalpaq, betimiz bizding jap-jalpaq" dep qazaq-qyrghyz aman-esen jýre bersin!». Búl jazushy Dәuren Quattyng jazghany. Bizding de aitpaghymyz osy.
Núrgeldi Ábdighaniyúly
Abai.kz