AQSh elshiligi. "Algha, Qazaqstan!" jәne gey-parad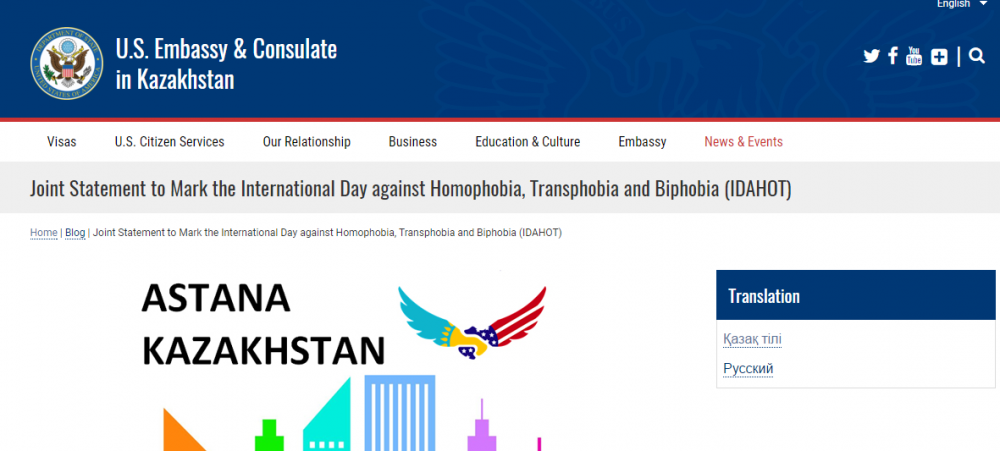 AQSh-tyng Qazaqstandaghy elshiligining resmy saytyn sholyp otyryp, myna bir aqpargha kózimiz týsti.
Aqparda AQSh elshiligi bas bolyp, birsypyra elshilikter men úiymdar Halyqaralyq gomofobiya, transofobiya jәne biofobiyagha qarsy kýres kýnin atap ótkeni jazylghan.
Jarty jynystylardyn jalaularyn jelbiretip jýrip ótkizgen sharasy - biylghy jyldyng 17 mamyrynda bolghangha úqsaydy. Elshilik saytynyng bas betindegi aqparatta solay dep kórsetilipti.
Ol ol ma, "Astana", "Qazaqstan" degen jazudy seksualdyq týsinigi tayghanaqtardyng nyshanyna aynalghan kempirqosaq týstes suretpen әrlepti.
Árlep qana qoymaghan. "Búl kýni biz Qazaqstandaghy lesbiandargha, geylerge, biyseksualdargha, transgenderge qoldau bildiremiz" dep maqala jazypty (On this day we express our support for, and solidarity with, the lesbian, gay, bisexual and transgender communities in Kazakhstan).
AQSh biyligi birjynystylyqty jәne osyghan úqsas auytqushylyghy bar adamdardyng tandauyn resmy moyyndap, rúqsat bergeni belgili. Tek AQSh qana emes, әlemning ózge de elderi osy prosessti qúlshyna qabyldaghan. Al biz she? Qazaqstanda birjynystylyqqa zang jýzinde shekteu qoyylmaghanymen, olardyng keybir mýmkindikteri shektelgeni ras. Qazaqstannyng memleketti qalaushy әm qúrushy últy - qazaq halqynyng seniminde, mentaliytetinde birjynystylyq ersi ekenin Jorj Krol jetekshilik etetin AQSh elshiligi bilmey me? Bilse óstir me? Álde búl provokasiya ma? Taghy bir súraq: elshilikting bir missiyasy sonda, birjynystylyqty jәne osyghan úqsas auytqushylyghy bar adamdardy qoldap, qolpashtau bolghany ma?
Biz maqalany týgel audaryp jatudy artyq sanadyq. Sebebi, maqalada birjynystylyqty ashyq dәriptey otyryp, múny demokratiyalylyq ashyqtyqqa teliydi.
Sóz týiininde elshik bylay deydi:
"Biz barlyq adamdardyng qúqyqtarynyng saqtaluyna, (búl jerde birjynystylardyng qúqyqtarynyng búzylmauyn núsqap otyrsa kerek-ti - red.) alalaushylyqqa jol bermeuge Qazaqstan Ýkimetine jәne últtyq qúqyq qorghau úiymdaryna qoldau kórsetemiz". 
(We stand ready to support the Government of Kazakhstan, national human rights organizations, families and all interested parties in their efforts to ensure non-discrimination protections apply to all citizens).
AQSh elshiligining bastamasyn qoldap, koalisiyasyna qosylghandar:
Astanadaghy Britaniya elshiligi;
BÚÚ ókildigi;
Kanada elshiligi;
Finlyandiya elshiligi;
Niyderland korolidigining elshiligi;
Shvesiya elshiligi;
Shveysariya elshiligi;
Aytpaqshy, Niu-Yorkte 21 mamyr kýni ótken gey-paradqa kózine qara kózildirik taghyp, ayaghyna әielderding biz ókshe tuflin kiyip alghan qazaqstandyq bireu qatysty. Sherude ketip bara jatyp ol birneshe ret, "Algha, Qazaqstan!" dep aiqaylaghan.
Iliyas Aqbay
Abai.kz