Toqaevty kim «tyndap» jýr?..
18 shildede Úiymdasqan qylmys pen jemqorlyqty zertteu úiymy (OCCRP) ózderining resmy sayttarynda «Pegasus jobasy» atty kólemdi zertteu materialyn jariyalady.
«Olar eshqanday da qonyrau, eshqanday da sybyr etken dybysty estigen joq. Alayda dәl sol sәtte olardyng telefondaryna sifrlyq shabuylshy, qylmysker dendep enip jatqan edi. Olardyng jeke mәlimetteri, olardyng kәsiby júmysyna qatysty qúpiyalar әp-sәtte kópke mәlim boldy. Tipti, qaskýnem shabuylshy olardyng telefondaryndaghy kamerany qosqysy kelse qosyp, qajetti suretter men beyne jazbalardy týsirip otyrdy. Olardy andyghan búl qylmysker – ózderining ýkimetteri boluy әbden mýmkin», - dep bastalatyn materialda әldekimder andyghan, baqylaghan jurnalister men belsendilerding tizimi jariyalanghan.
Pegasus – búl Izrailidegi NSO Group kompaniyasy jasap shygharghan tynshylyq jasaugha arnalghan baghdarlama. Al NSO Group kompaniyasy – búl kiyberbarlaugha mamandanghan kompaniya. Ónim avtorlary atalghan baghdarlamanyng (Pegasus-tyn) әuelde terrorister men qylmyskerlerdi andugha arnalghanyn aitady. Alayda Úiymdasqan qylmys pen jemqorlyqty zertteu úiymy (OCCRP)  ondaghan elding biyligi búl baghdarlamany jurnalister men qogham belsendilerin andu ýshin de paydalanghanyn dәleldep shyqan. Búl sanatta Qazaqstan da bar eken. OCCRP dereginshe, Qazaqstan biyligi úzyn-yrghasy 2 myngha tarta telefon nomerin andugha bergen.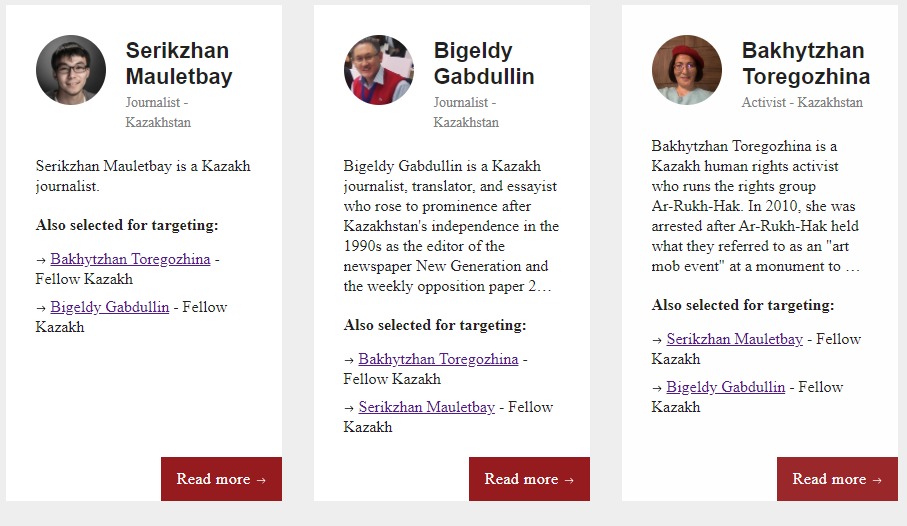 Qazaqstan ýkimeti tynshylyq baghdarlama kómegimen andydy degen tizimde 5 adam bolghan. Onyng ekeui jurnalist, qalghan ýsheui qogham belsendisi qatarly tizimdelgen. Olar:  Informburo.kz portalynyng tilshisi, bloger – Serikjan Mәuletbay, PEN-klub jetekshisi, 2017 jyly bopsalau baby boyynsha sottalghan – Biygeldi Ghabduliyn, Qúqyq qorghaushy – Baqytjan Tóreghojina men Kventin Giyeme jәne Martin Viom degen adamdardyng attary atalady.
«Azattyq» sayty, qazaqstandyq tizimdegi songhy ekeuining – Kventin Giyeme men Martin Viomnyng sheteldegi eks-bankir Múhtar Áblazovpen baylanysy boluy mýmkin ekendigin jazady.
Úiymdasqan qylmys pen jemqorlyqty zertteu úiymy (OCCRP) 20 shilde kýni tynshylyq tizimining Qazaqstangha qatysty bóligin janartty. Tizimge taghy ýsh adam qosyldy. Olar: Qazaqstan Respublikasynyng preziydenti Qasym-Jomart Toqaev, QR Premier-ministri Asqar Mamiyn jәne Almaty qalasynyng әkimi Baqytjan Saghyntaev.
Al Úiymdasqan qylmys pen jemqorlyqty zertteu úiymy (OCCRP) resmy saytyndaghy: «Pegasus tiziminde úzyn-sany 2000 qazaqstandyq nomer anyqtalghan. Búl degeniniz – olardyng atalghan baghdarlamanyng potensialdy nysanasy bolghandyghyn bildiredi. Tizimde jurnalister az bolghanymen, elding iskerlik-sayasy elitasynyng ókilderi kóp. Olardyng qatarynda Núrsúltan Nazarbaevtyng seriktesteri men qarsylastary da bar», - degen aqparat 18 shildede shyqqan.
OCCRP saytynda 20 shilde kýni jariyalanghan «Álem liyderleri Pegasus tiziminde: Fransiya preziydenti Makron, Marokko karoli Múhammed pen Qazaqstan preziydenti Toqaev» atty maqalada barlyghy 14 elding liyderleri tynshylyq nysany retinde alynghanyn jazghan.
Preziydent Toqaev eldegi nomeri ekinshi sayasy túlgha bolyp jýrgen kezinde-aq, atalghan tizimge ilingen eken (Kazakhstan's president was selected while he was still the regime's number two).
Toqaevty tyndau turaly tapsyrys Qazaqstannan týsken
«Qazaqstanyng qazirgi Preziydenti men Premier-ministri, Meksika Preziydentining ainalasyndaghy adamdar men Marokko Karoli men Premier-ministrin andu turaly tapsyrys óz elderinen týsken», - dep jazady OCCRP (But Kazakhstan's current president and prime minister, a circle of people close to the current president of Mexico, and both the king and prime minister of Morocco appear to have been selected by their own countries).
Zertteushiler qazaqstandyq sandardyng klasterizasiyasyn jәne Pegasus Project jurnalisterining Qazaqstannyng Pegasus-ty paydalanatyny turaly zertteuin negizge ala otyryp, tapsyrys Qazaqstannan týsken degen payymgha toqtalypty.
Ári qaray, Toqaevtyng 2017-2018 jyldary sol kezdegi preziydent Núrsúltan Nazarbaevtan keyingi Qazaqstandaghy ekinshi sayasy túlgha bolghanyn aitypty.
«Nazarbaev el basqaru isinde aitarlyqtay salmaghy jәne «Elbasy» degen arnayy tituly bar. Ol Qauipsizdik kenesi men biylik basyndaghy «Núr Otan» partiyasynyng tóraghasy. Onyng sotpen qudalanbaytyn jәne әskery mәselelerge qatysty baqylaushy statusy bar», - depti OCCRP.
Odan әri 2019 jylghy Núrsúltan Nazarbaevtyng preziydenttik mandatyn Toqaevqa tapsyryp bergenin jazady. Sol uaqytta Nazarbaev Baqytjan Saghyntaevtyng ornyna Asqar Mamindi el premieri etip taghayyndaghanyna toqtalypty.
Toqaev pen Mamin andu nysany bolghan kezde olar qazirgi qyzmetterinde emes edi. Toqaev Senatty basqaryp otyrsa, Mamin birinshi viyse-permier edi.
«Toqaev qyzmetine kiriskennen bastap reformator retinde kórinuge tyrysqanymen, ol ózining aldyndaghy adamnyng sayasatyna adal ekenin kórsetti. Mamin ataqqúmarlyghy joq, tehnokrat adam. Sondyqtan olardyng Nazarbaev yqpalyna esh qaupi joq», - dep jazady.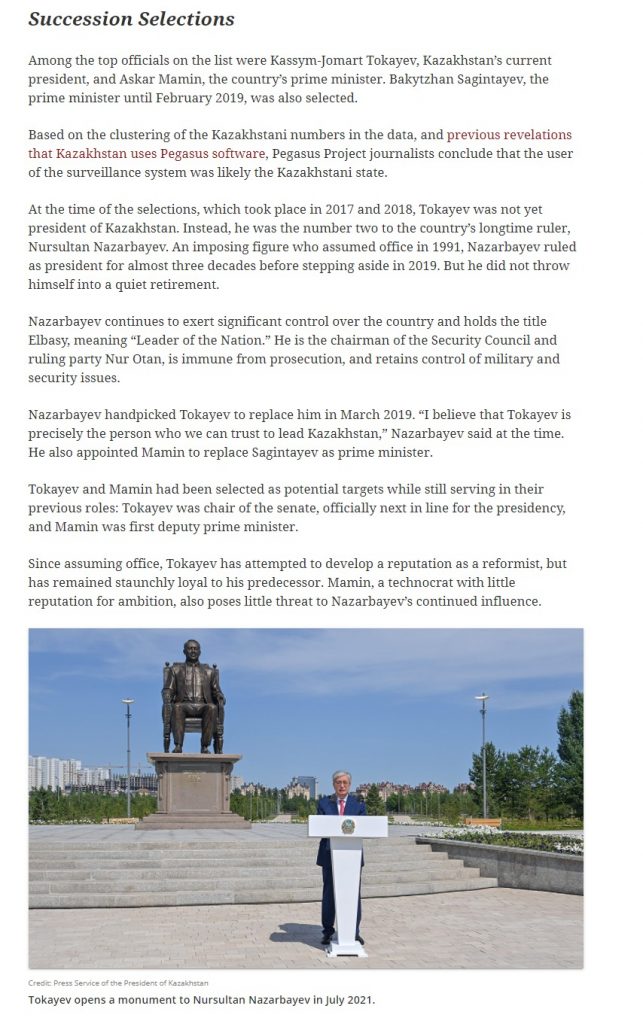 OCCRP dereginshe, әlemning onnan asa elinde úzyn-sany 200-ge tarta jurnalist pen belsendi andu turaly tapsyrys bolghan. Pegasus qyzmetine Qazaqstannan basqa Ázerbayjan, Vengriya, Meksika, Bahreyn, Ýndistan, Indoneziya Marokko, Ruanda, Togo, Saud Arabiyasy jәne Birikken Arab Ámirlikterining ýkimetteri jýgingen.
Ázirlegen Núrgeldi Ábdighaniyúly
Abai.kz